Hi everyone!!
I hope you're doing well. I've been pretty much MIA online, but I have a good reason. Wait.... I have an awesome reason!! Back in June I was contacted by someone associated with The SYNERGY Events who had seen my designs online and asked if I was interested in submitting my portfolio to be considered for an event they were putting on at Boston Fashion Week....
The Emerging Trends 2011 Boston Fashion Week
. Are you kidding? Heck yeah!! To make a long story short, I submitted it and was accepted!! I had the option of showcasing my designs on the runway, at a vendor booth or both. I weighed the pros, cons and cost and decided to do a vendor booth.
The show is this Saturday, September 24th at 8pm at Cyclorama in Boston (Boston Center for the Arts). I'm VERY excited..... and very nervous! I've decided to blog about my journey leading up to the event. I thought you might enjoy tagging along ;-) You can also see the pix in an album I set up on my facebook page...
The Emerging Trends 2011 ~ Boston Fashion Week.
This is totally different than other shows I've done and I'm doing a completely new set-up for it so it's been VERY busy here! I had to finish my general business brochure and have them printed. And shipped.... FAST. Well, all 500 of them arrived yesterday morning and I think they look great! I ordered them from
www.OvernightPrints.com
and I'm very happy with them. They got them printed, folded and here on time...
I usually do a multi-level set-up for all my shows. This is a photo of my typical booth for a 10x10 foot space at a show...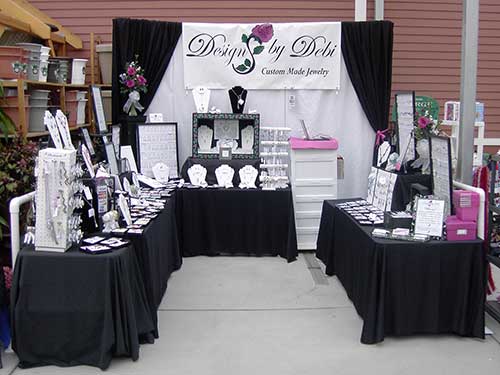 For this event I have a 6 foot table to work with. I decided a tiered display would be best. My goal is to get my booth and designs noticed, create interest and make a good impression. My Dad (bless his heart) went ahead and made a wood tiered frame that will break down flat for transport. Yes, this is where I get my do-it-yourself skills!! I always do a test set-up before every show and take photos to use at the venue when I set up. I do this in the garage. So here we go...
I'm glad you're joining my journey! There'll be much more to come :)
♥ Debi