Hi everyone!
I'm very excited... I have a new product announcement for you today! It's actually an addition to an existing product line. I designed my Rainbow Bridge Pet Memorial Bracelet™ in May of 2008. It all began with a sketch on paper. I made the very first bracelets for a friend and her daughter in December of that year when she had to put her dog Tasha to sleep. They loved them. So I made up a sample, photographed it and started the product line...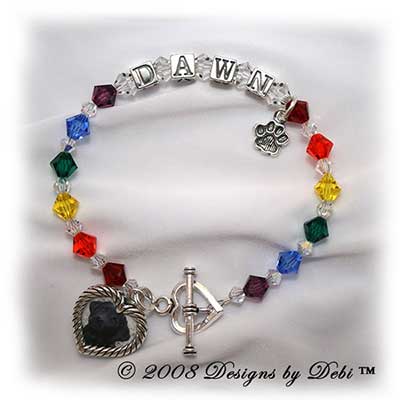 Dawn was my grandfather's Seeing Eye Dog. She was wonderful and, since I would never put Niko's name on the sample for fear of jinxing myself, I decided to honor Dawn instead.
The bracelets have been very popular. So in 2010 I decided to add a second style with the rainbow displayed in a more subtle fashion for those who prefer a less colorful option. This style comes in 4 different combinations of sterling silver beads and your choice of crystal color(s)...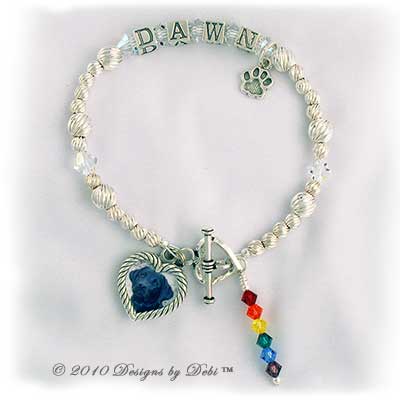 Now I've been asked to design one for horses. So here's the newest addition to the Rainbow Bridge Pet Memorial Bracelets™ line...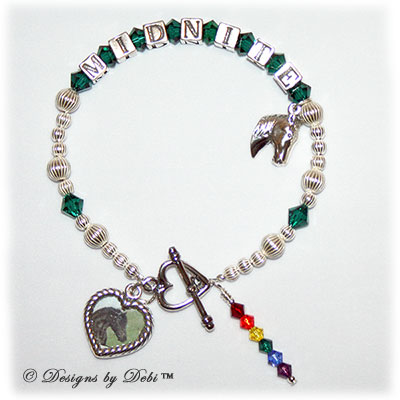 I admittedly don't know much about horses and wasn't sure what kind of charm would be preferred by a horse lover so I selected 3 different ones to try... a horse head, a small horse and a horseshoe. (If you're a horse owner, feel free to give me your input!)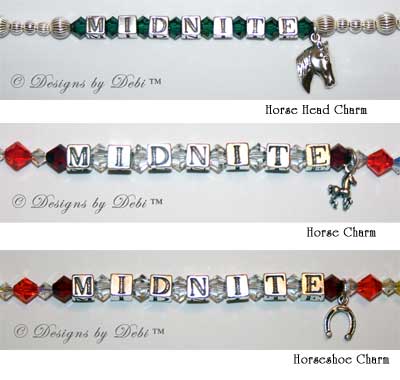 Custom orders are my specialty and, with the vast selection of charms available, these bracelets can actually be customized for any kind of pet.
To many of us pets are family. They bring great joy into our lives and when we lose a pet it hurts...often just as much as losing a human friend or family member. The Pet Memorial Bracelet is a great way to carry your love for your pet and happy memories of them with you every day to bring you comfort.
If you or someone you know ever suffer that terrible loss and are looking for a special keepsake, I'd love to design one for you.
Thanks for letting me share my new design. My dog, Niko means the world to me so my heart just breaks every time I hear of someone losing a pet and that's where my idea for these bracelets came from. If you've ever lost a beloved pet, my heart goes out to you too :)
♥ Debi