Hi Girlfriends!
How are you today? Hope everyone's having a great day and getting ready to welcome in summer (my northern hemisphere friends anyway)!
I promised my Facebook fans/friends that once I hit 313 fans, I'd hold a special Fan Appreciation Giveaway and introduce a new product online. Well they got me to 313 much faster than I thought they would and (mostly due to 2 bad rounds of product photography...ugh!!) I've been scrambling to get it all ready :)
Just in time for summer I'm unveiling my Bangle Bracelets!! They're this season's must-have accessory and you can find all the best ones at Designs by Debi. If you like bangle bracelets, you're going to LOVE these!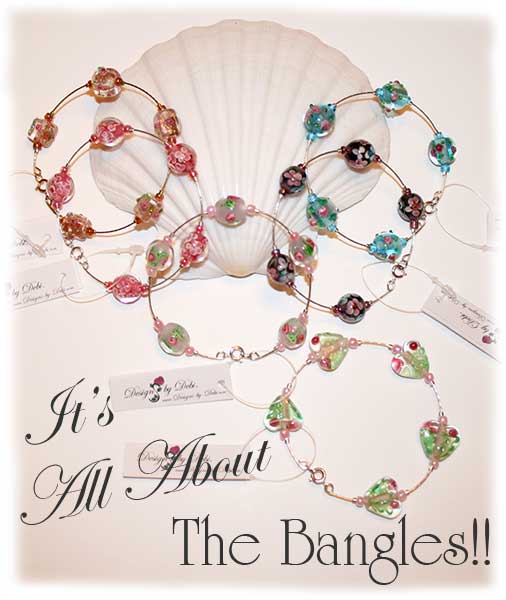 For those of you who don't already know, bangle bracelets are actually how Designs by Debi came to be in the first place. I wanted beaded bangles and couldn't find any so I decided to figure out how to make them myself. You can read more about it and the bracelets in the new article I wrote called "
It's All About the Bangles!
" in the reference center on the website.
I'm going to start listing them this weekend on the
website
and in
my ArtFire Studio.
I have A LOT of them for you in silver and gold, every color imaginable, some with hearts, flowers, swirls of color, some plain. And these bangles are great for stacking! Very important because, as those of us who wear bangles know...you can't just wear one :)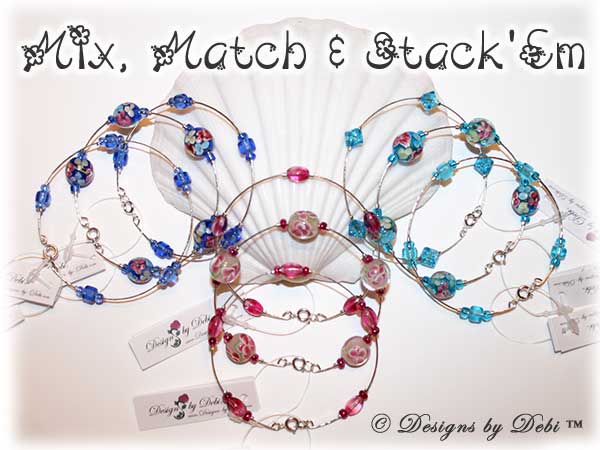 While I'm finishing up the photo-editing and getting them listed though, you can go on over to the 313 Fan Giveaway tabs and enter to win one! Read, agree to and follow everything on the Rules tab first then hop over to the Prizes tab and follow the instructions to enter. There will be 5 winners chosen and each will receive 1 bangle selected from the ones on the prizes page. The giveaway is open until June 14th so go on and enter and please share it with your friends!
♥ Thank you so much for being a fan and friend of Designs by Debi... and me ♥
Have a wonderful holiday weekend with your friends and family! My Dad told me I'd better enjoy this one...it's my last weekend being 39. I turn 40 on Tuesday. So nice of him to remind me huh? Oh well, have a great one everyone :)
♥ Debi