Well the charity jewelry for this month is finally done and up on the website! After the tornado outbreak at the end of April, I decided to change charities and make this one to benefit the American Red Cross because they're helping the tornado victims.
Of course changing charity and purpose changed
everything
. I decided I wanted yellow and white beads, preferably with flowers, because yellow represents hope and renewal. Of course I didn't have any. I did a shout out on facebook to my glass artist friends though and Krissy from
Krissy Beads
came through for me with a beautiful set of beads that were just perfect!! This is the result...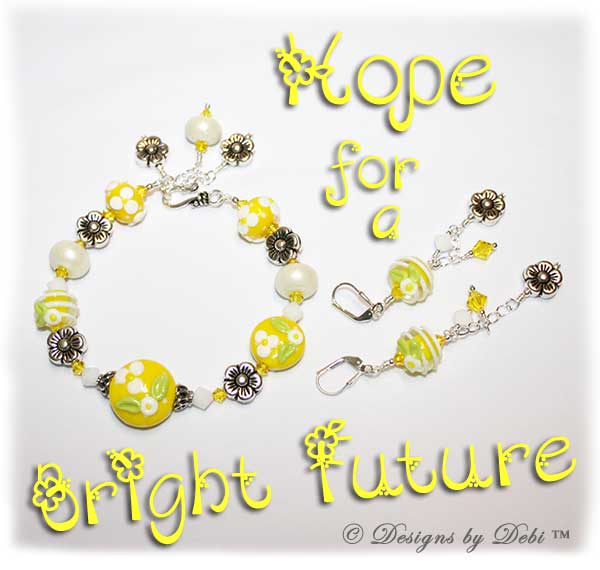 I finally finished everything and got it up on the website today and I'll tell ya it was nice to work on something cheerful after a really rough couple days!
I brought Niko to the vet first thing Monday morning and he needs surgery. Doggie moms get really upset and nervous when their babies are sick, too :(
Then it was a phonecall to my doctor for left arm pain that I feared may be a blood clot. Soon as he examined me he sent me off for a stat ultrasound and, sure enough, the basilic vein is clotted from just above my wrist all the way up my arm!! Talk about a bad day.
So I guess I'm hoping for a bright future, too...... and that's exactly what I wish for all of you ♥xoxo♥
♥ Debi